Blog
Amsterdam City Guide
18 Jul 2018 | City Guides
Whether you are planning a citytrip Amsterdam or you're looking for must-visit places. In the Amsterdam City Guide we're making a selection of the nicest Amsterdam hotspots. From unique boutiques to new rooftop bars: with this city guide you will really experience your citytrip Amsterdam the local way.
Amsterdam - Restaurants & bars
During your citytrip Amsterdam eating and drinking is part of the experience. Which restaurants and bars really have to be a part of your must-visit list? We've got you covered.
Cold Pressed Juicery
For an effective vitamin shot you have to bring a visit to healthy hotspot Cold Pressed Juicery Amsterdam. Here you can drink extremely healthy cold pressed juices that are made of biological, vegan, gluten- and sugar free fruits and vegetables. Because of the two meter high juicer all the vitamins and minerals land straight in the bottle.
The Cold Pressed Juicery Amsterdam | Willemparksweg 8 | Herengracht 245 | Nieuwe Passeerdersstraat 12 | Prinsengracht 154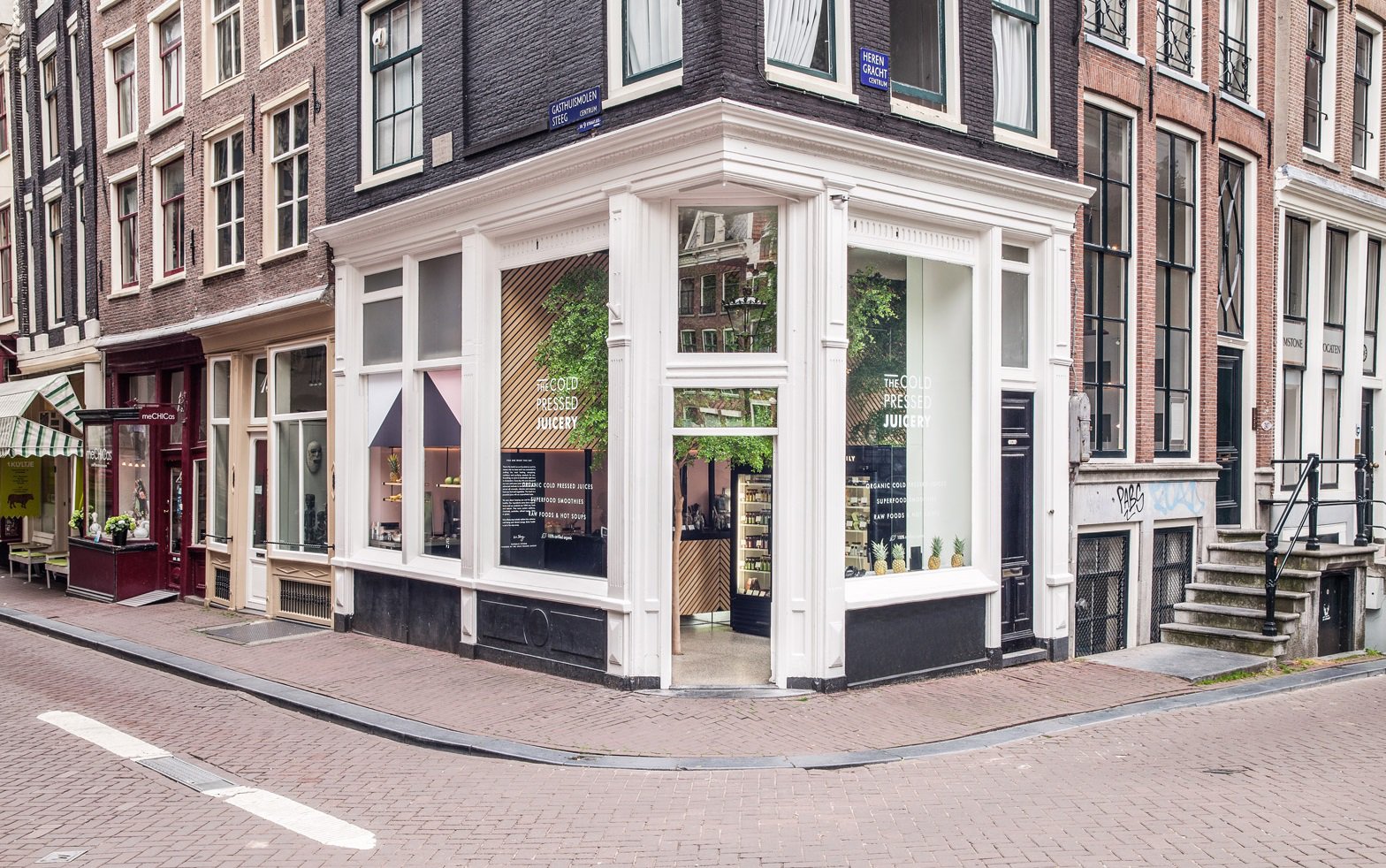 Corner Bakery
In need of a sugar rush? Then you can head straight to Corner Bakery Amsterdam. At this sweet hotspot you can count on a explosion of delicious freakshakes, donuts and pancakes. Corner Bakery has three locations, with one on the Johannes Vermeerstraat, one on the Koningin Wilhelminaplein and the latest location at the Jan Pieter Heijestraat. 
Corner Bakery | Johannes Vermeerstraat 40 | Kon. Wilhelminaplein 60-62
The Avocado Show
If people are sleeping in front of the restaurant for the opening, you know you have something good. Since The Avocado Show on the Daniël Stalpertstraat in neighbourhood De Pijp opened its doors, it hasn't been quiet. Here you can eat the most delicious and Instagram-worthy dishes with -of course- avocado. Pancakes, toasts, bowls...
The Avocado Show Amsterdam | Daniël Stalpertstraat 61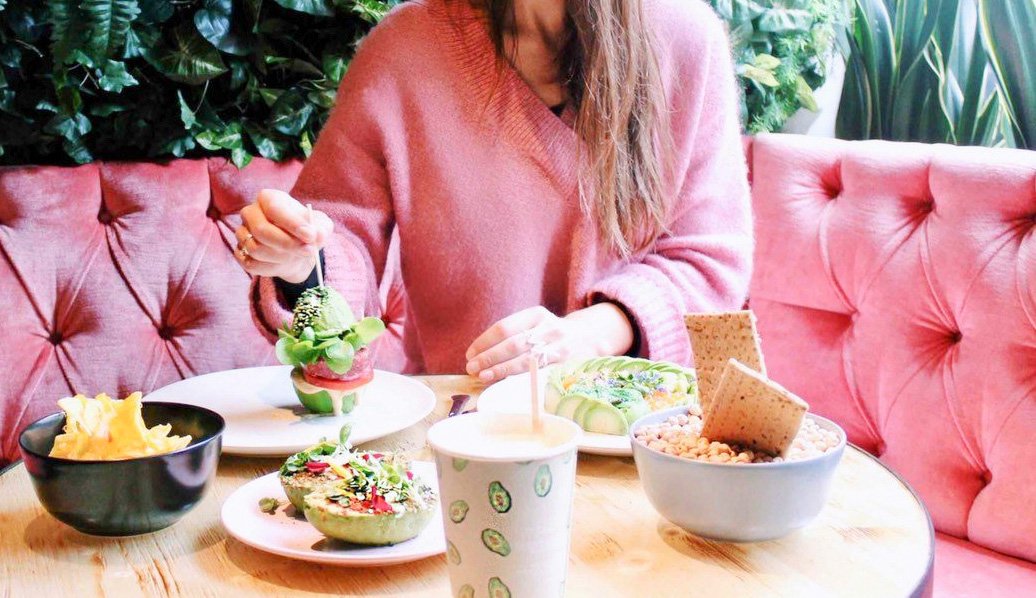 Vegan Junk Food Bar
Whether you are vegan or you just like to eat the good stuff. At the Vegan Junk Food Bar you are in for a vegan treat (hello vegan burgers). The vegan restaurant sensation nowadays has not one, but three locations. The latest junk food bar has been opened on the Dappermarkt in the east of Amsterdam. You can find the other two at Overtoom and the Heinekenplein.
Vegan Junk Food Bar Amsterdam | Staringplein 22 | Eerste van Swindenstraat 389 | Marie Heinekenplein 9-10
Restaurant C
At restaurant C it's all about degrees Celcius. Here it's not only about the product itself, but mostly about the way of preparing. Preparing the same product with a low temperature or a high temperature of the same product can make a massive difference in the taste and texture. At restaurant C you can treat yourself to small dishes that have been prepared in different degrees. Convenient, because they are perfect for sharing.
C Amsterdam | Wibautstraat 125, Amsterdam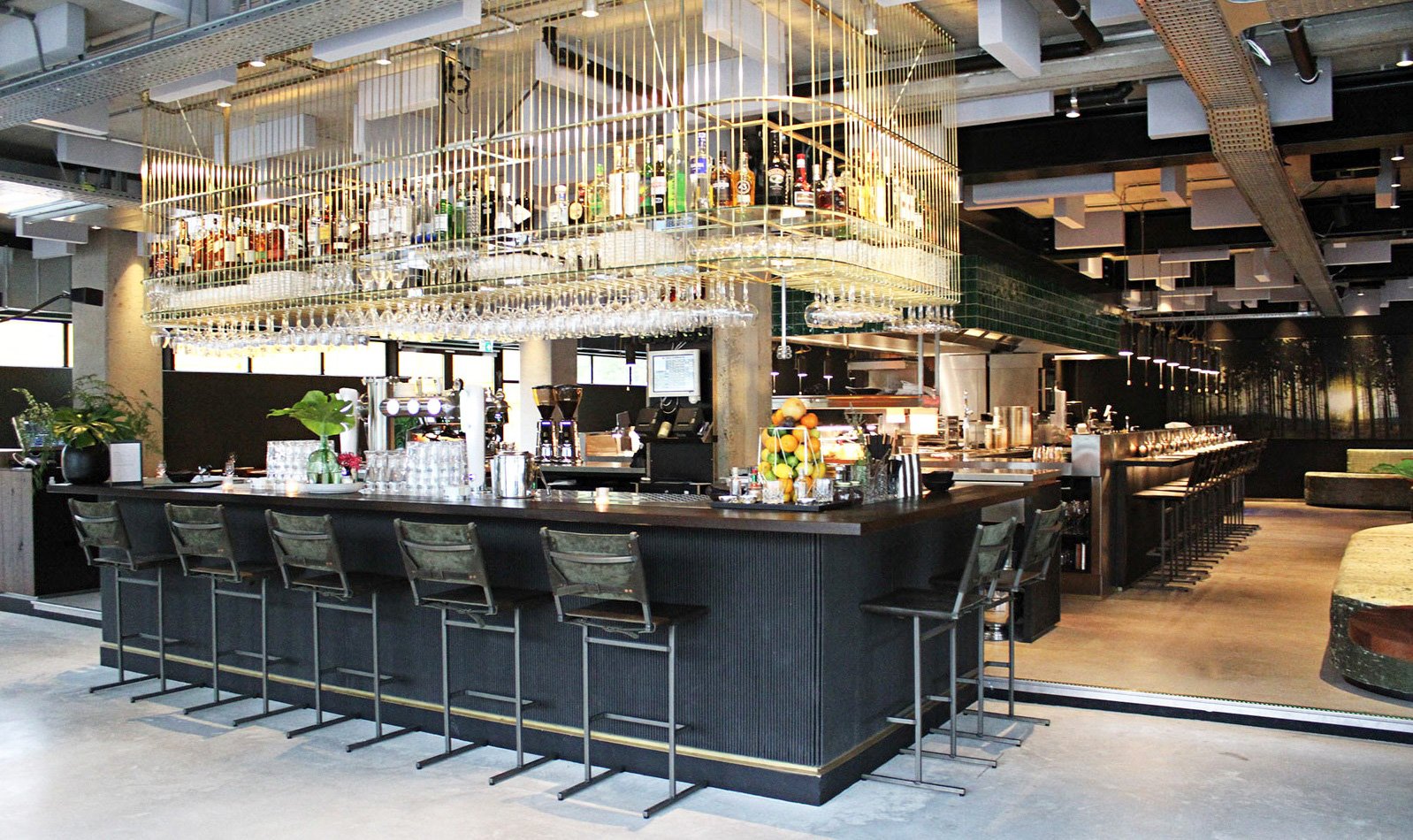 Café Zurich
In the middle of the Mercatorplein you can find Café Zurich. A striking round building where you can drink a nice cup of coffee, have drinks, lunch or dinner. Café Zurich sees itself as sort of a community centre with a mixed audience.
Café Zurich Amsterdam | Mercatorplein 2b
Los Feliz
Cocktails, Mexican food and an instant vacation vibe. That's Los Feliz on the Albert Cuypmarkt in a nutshell.  Because of the colorful wall paintings and exotic tunes you're sure to forget you are in Amsterdam.
Los Feliz Amsterdam | Albert Cuypstraat 88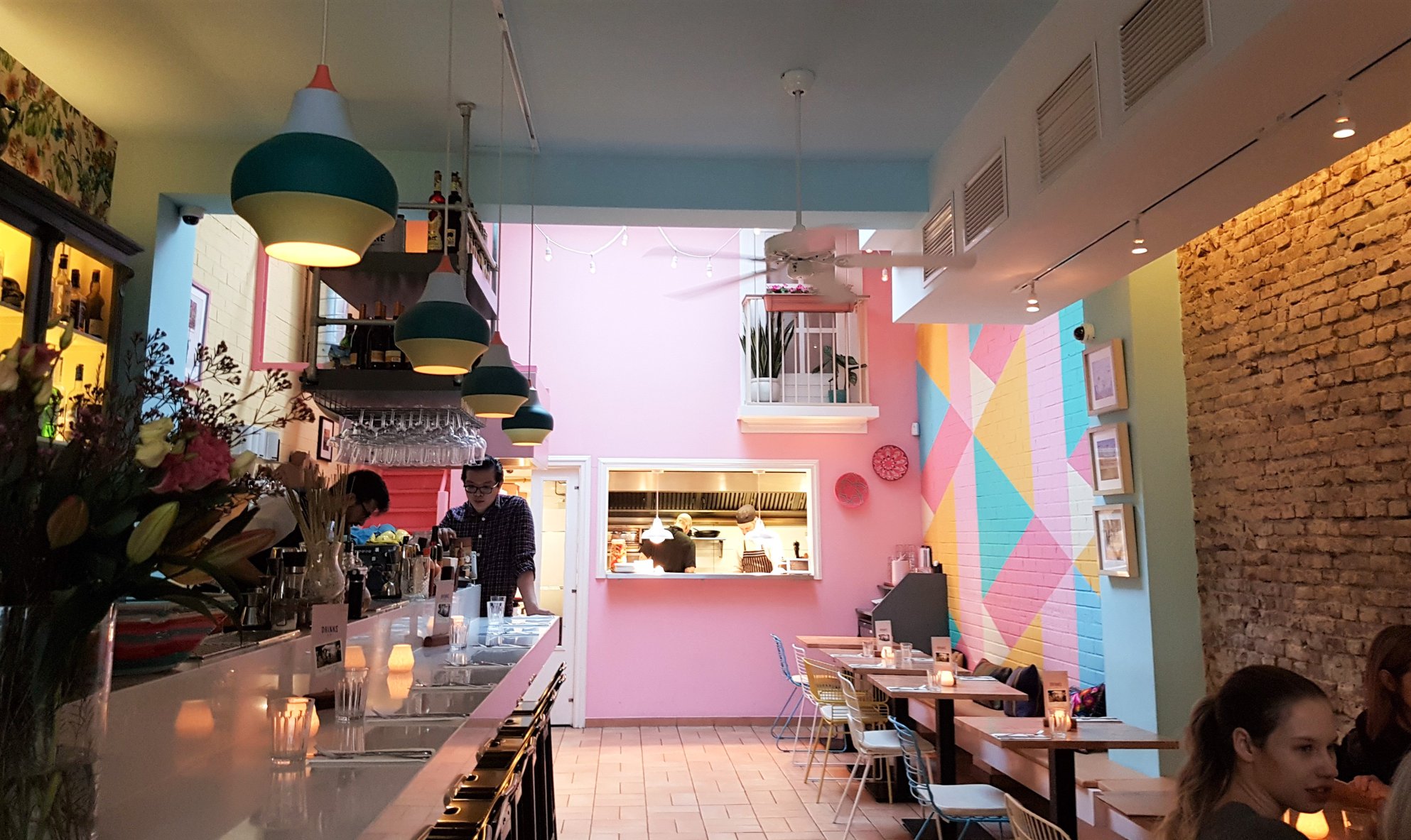 Rayleigh & Ramsey
A paradise for all wine lovers. At wine bar Rayleigh & Ramsey Amsterdam on the Overtoom you can pour your own wine. How it works? You put your money on your wine card and pour wine out of the dispenser. Only a small sip or a full glass? It's up to you.
Rayleigh & Ramsey Amsterdam | Zocherstraat 2 | Van Woustraat 97
The Birdhouse
A true Instagrammable hotspot is The Birdhouse Amsterdam. This urban jungle in Amsterdam-Oost is as deliciously looking as the food tastes. Think: tasty toasts and delicious bowls. In The Birdhouse you can have breakfast, lunch, dinner and drink a hell of a cocktail. Oh, and nice detail: dogs are also more than welcome.
The Birdhouse Amsterdam | Plantage Middenlaan 46
Difficult to choose or you just want a bit of everything? Then head to the Foodhallen Amsterdam. There you are sure to find something that fits your appetite.
Amsterdam is full of amazing hotspots. So why won't you turn your day in Amsterdam into a citytrip Amsterdam? At The Manor Amsterdam and The Lancaster Hotel Amsterdam you're located in the hippest neighbourhoods of Amsterdam.
Amsterdam - Shopping
There's no city in the Netherlands where you can shop as good as in Amsterdam. We're not talking about H&M and Zara on the famous Kalverstraat, but more about the unique stores of Amsterdam. Here are our favourite stores and boutiques.
Hutspot
Amsterdam has countless of concept stores, but Hutspot keeps on being our favourite. In need of a present or just a cool musthave for your own collection? Here you can find everything. From home decoration and furniture to backpacks, coffee table books and glasses. You can find Hutspot on two locations in Amsterdam: the Rozengracht and the Van Wou. On the Van Wou you can also have lunch... 
Hutspot Amsterdam | Van Woustraat 4 | Rozengracht 204-210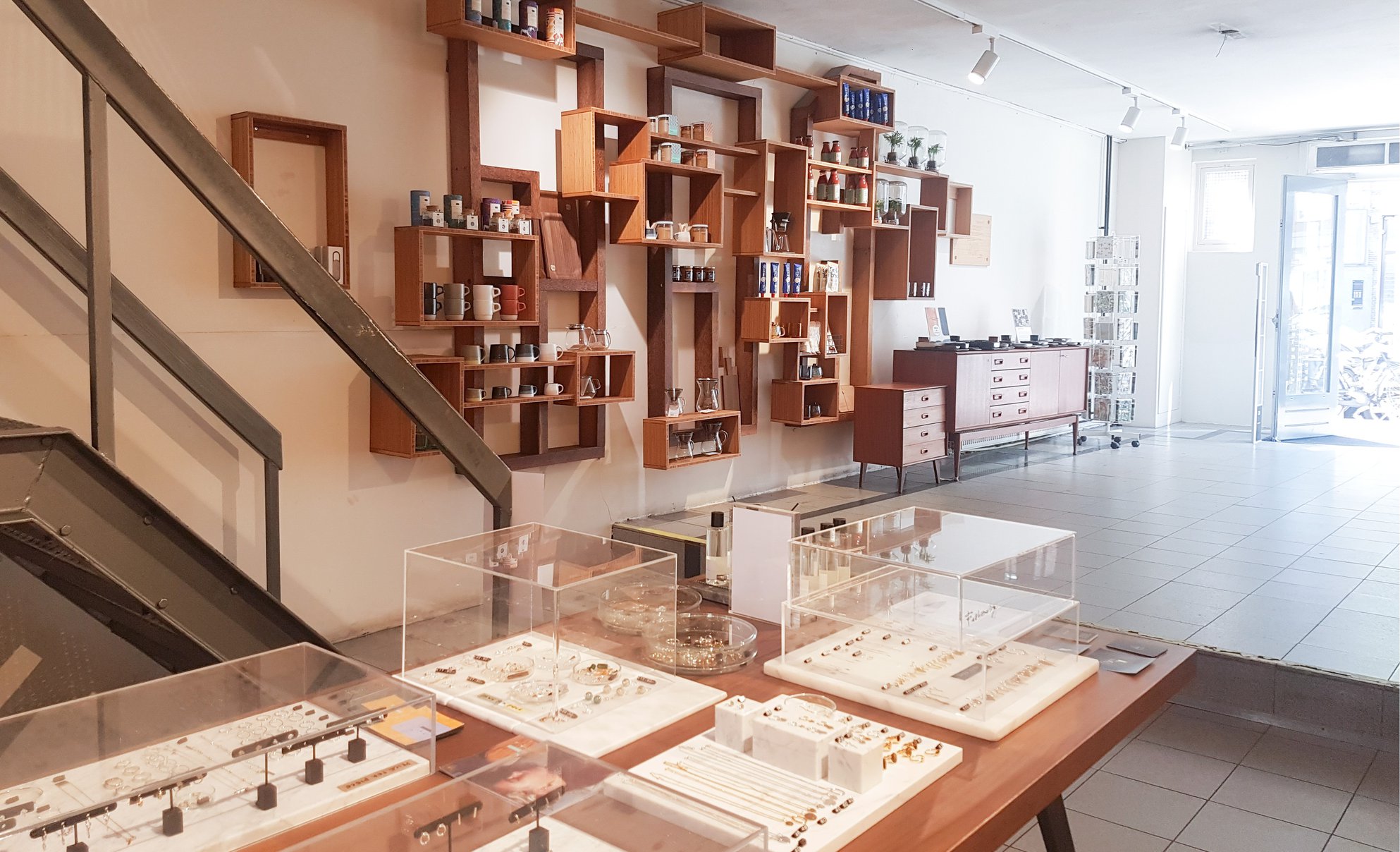 Jutka&Riska
Hip Amsterdam locals are true fans of Jutka&Riska. Here you can get your hands on the coolest vintage items and accessories. Impressive woman who won't find anything here. The shops has two locations; one on the Haarlemmerdijk and on the Bilderdijkstraat.
Jutka&Riska Amsterdam | Bilderdijkstraat 194 | Haarlemmerdijk 143
TITS
TITS Amsterdam doesn't only have special name, but also has really special goodies. Here you can find clothes, jewellery and unique musthaves. Fun fact: T.I.T.S. stands for 'This Is The Shit,' which comes back in the illustrations of the interior and available accessories.
TITS Amsterdam | De Clercqstraat 78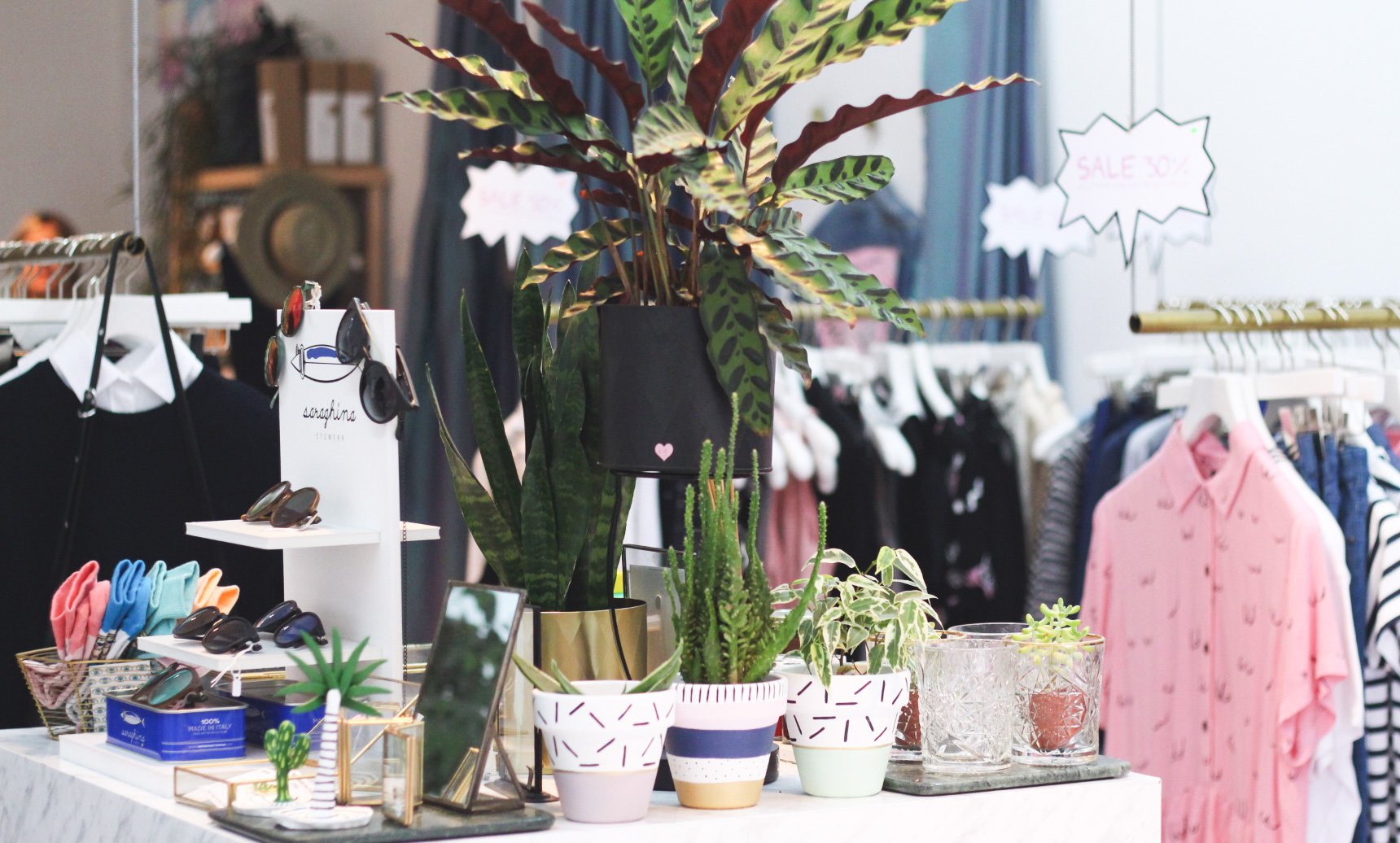 Amsterdam - Art & Culture
For whoever wanting to get inspired and gaze at beautiful art, Amsterdam is the right place to be. The Rijksmuseum and Tropenmuseum you might know, so we've rounded up the hidden gems of art galleries and museums. 
TASCHEN Store
Book lover? Then Taschen Store in Amsterdam is your go-to place. This bookstore on the PC Hooftstraat is designed by Philippe Starck en is a true book lovers paradise. The Taschen Store is mostly specialized in photo books in genres like design, fashion, art and architecture.
TASCHEN Store Amsterdam | P.C. Hooftstraat 44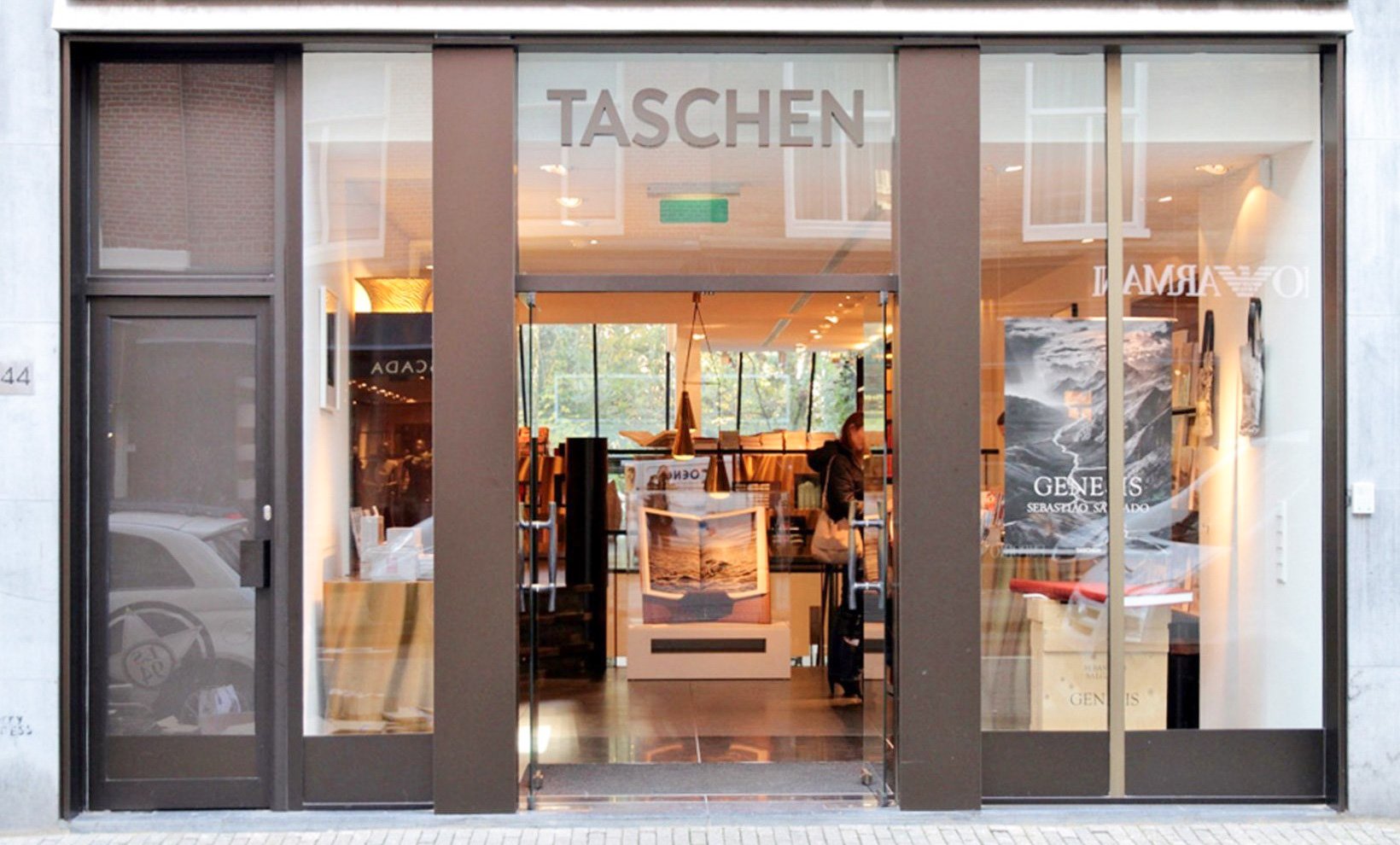 Scheltema
Culture meets coffee at this book store in Amsterdam. Not only can you find enough for the literature lover,  it's also a coffee hotspot. On the first floor of Scheltema on the Rokin there is a Vascobelo V-bar. And we can tell you that good coffee tastes even better with a good book in your hands.
Scheltema Book Store Amsterdam | Rokin 9
GO Gallery
Fan of street art? GO Gallery is a street art gallery in Amsterdam. On the Marnixstraat, to be exact. Because of its outstanding collaborations and contributions in the genre GO Gallery won in 2016 and 2017 the Best Dutch Street Art price for best gallery.
GO Gallery Amsterdam | Marnixstraat 127
Huis Marseille
Breathtaking photography in an equaly striking building. In Huis Marseille on the Keizersgracht you can enjoy the work of outstanding photographers. Find your way from the basement to the attic in the back house. After your visit you can reminisce in the indoor garden or walk to FOAM for more amazing photo presentations.
Huis Marseille Museum Amsterdam | Keizersgracht 401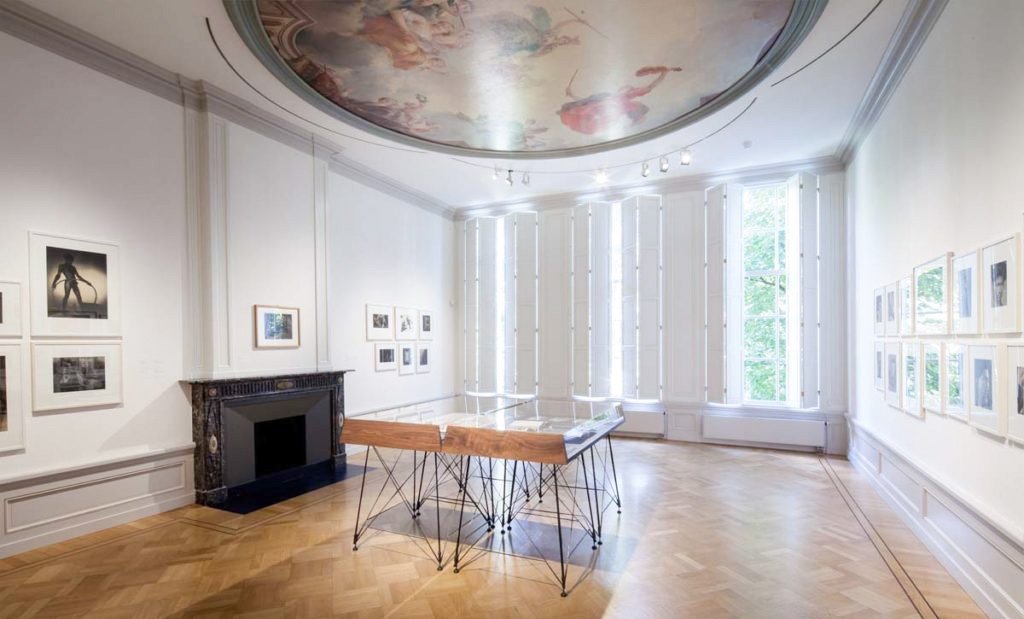 For a citytrip Amsterdam you are going to need a few days. Looking for a super centrally located hotel in Amsterdam? American Hotel Amsterdam or Eden Hotel Amsterdam are thé Amsterdam hotels for you.
Hortus Botanicus
Hortus Botanicus Amsterdam is about the oldest botanical garden in the world. Today you can find here more than 4.000 plants from all around the world. An amazing relaxing spot in Amsterdam where you can surely spend a lot of hours.

Hortus Botanicus Amsterdam | Plantage Middenlaan 2a
Amsterdam - To Do
Want to really do and experience something while on your citytrip Amsterdam? Add these to your Amsterdam to-do list. 
PUCK
Also grown ups get to be kids now and then. At PUCK Amsterdam you can play a mean game airhockey, and also treat yourself to a nice dinner, wine or cocktail. And those taste even better when you have just won a game. Tokens for the airhockey tables and other arcades are available at the bar.
PUCK Amsterdam | Jan Evertsenstraat 747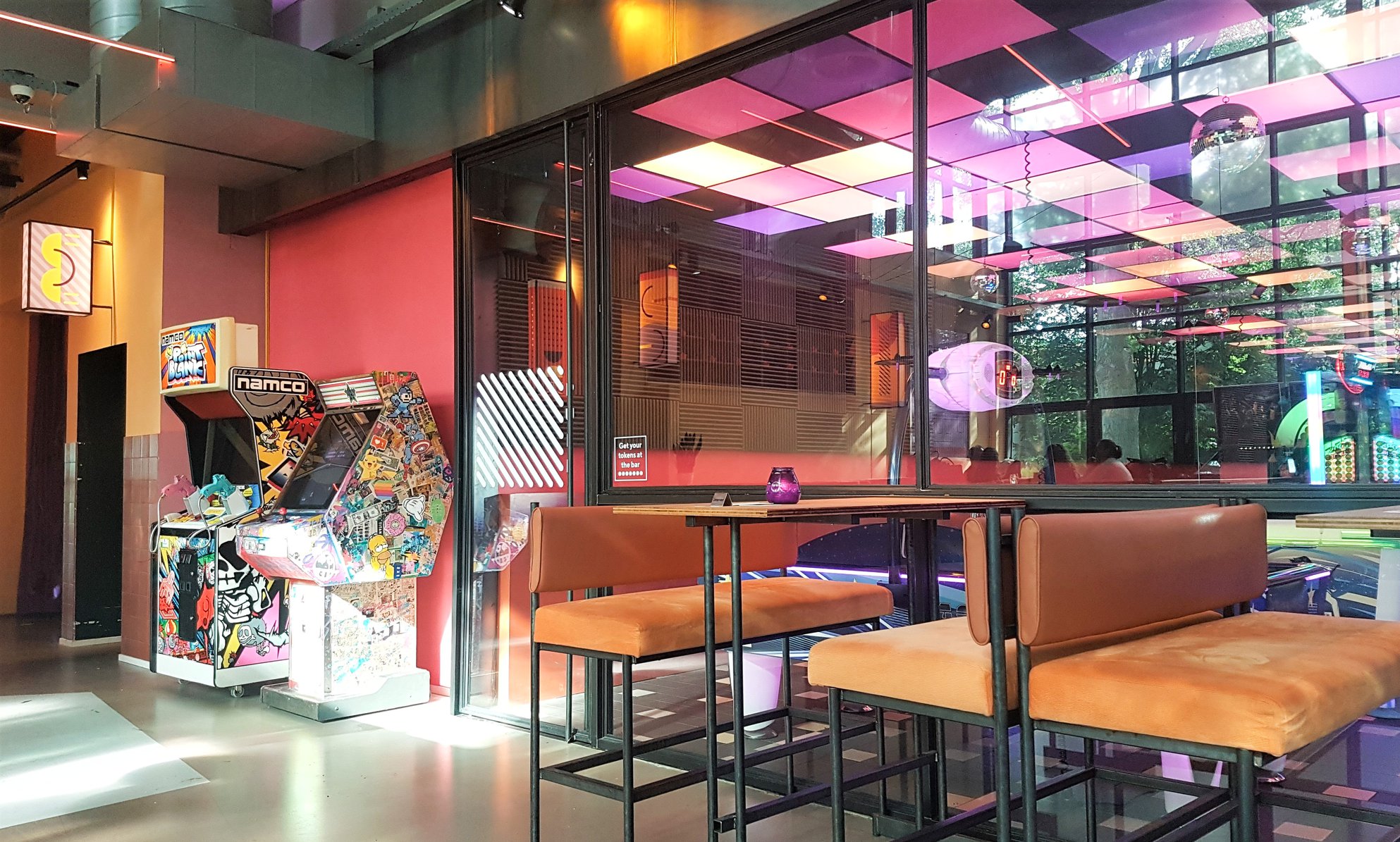 A'DAM Tower
You might have already heard of the A'DAM Tower, but just in case you didn't we still wanted to share it. Because a swing with a view on the Amsterdam skyline really is pretty cool. 
A'DAM Lookout Toren | Overhoeksplein 1
W Amsterdam swimming pool
On the roof of W Amsterdam you can't only enjoy a very nice cocktail, but also seek some refreshment. W Amsterdam has the only rooftop pool of Amsterdam. The Wet Deck is equiped with a rooftop terrace and pool heating, which means you can admire the Amsterdam skyline here throughout the year. During the week you can swim here by spending a minimum of 25 euro's, in the weekend for 50 euro.
W Amsterdam | Spuistraat 175
Chin Chin Club
Voice that impresses? Then the Chin Chin Club Amsterdam on the Rozengracht is a place where you can shine. At the Chin Chin Club you can play old school karaoke. But also for a good dose of cocktails, dim sum and nostalgic games you are here in the right place.
Chin Chin Club Amsterdam | Rozengracht 133
TonTon Club
Also at the Ton Ton Club you can release your inner child. At the TonTon Club you can find old-skool arcade that makes you never wanting to stop. That in combination with nice Japanese food and local beers we can assure you that you will enjoy yourself. TonTon Club has multiple locations, so check their website to see which one is most convenient for you.
TonTon Amsterdam | Sint Annendwarsstraat 6 | Polonceaukade 27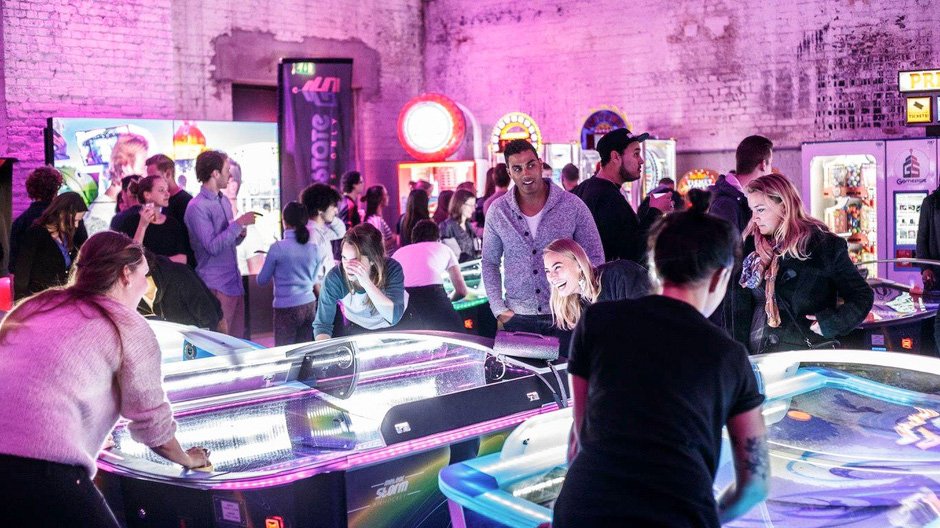 Amsterdam - Best Terraces
In the summer there is not a nice thing to do than spending an afternoon or evening on a terrace. And those you have a lot of in Amsterdam. We'll tell you on which Amsterdam terraces you should stay this summer.
Rooftopbar HOPP
Brand new and with views that instantly make you happy. Rooftopbar HOPP is located on the roof of Hotel Casa and might be the greenest of Amsterdam. The rooftopbar has its own rooftop garden. Good to keep in mind: the rooftopbar is only open on dry days.
Rooftopbar HOPP Amsterdam | Eerste Ringdijkstraat 4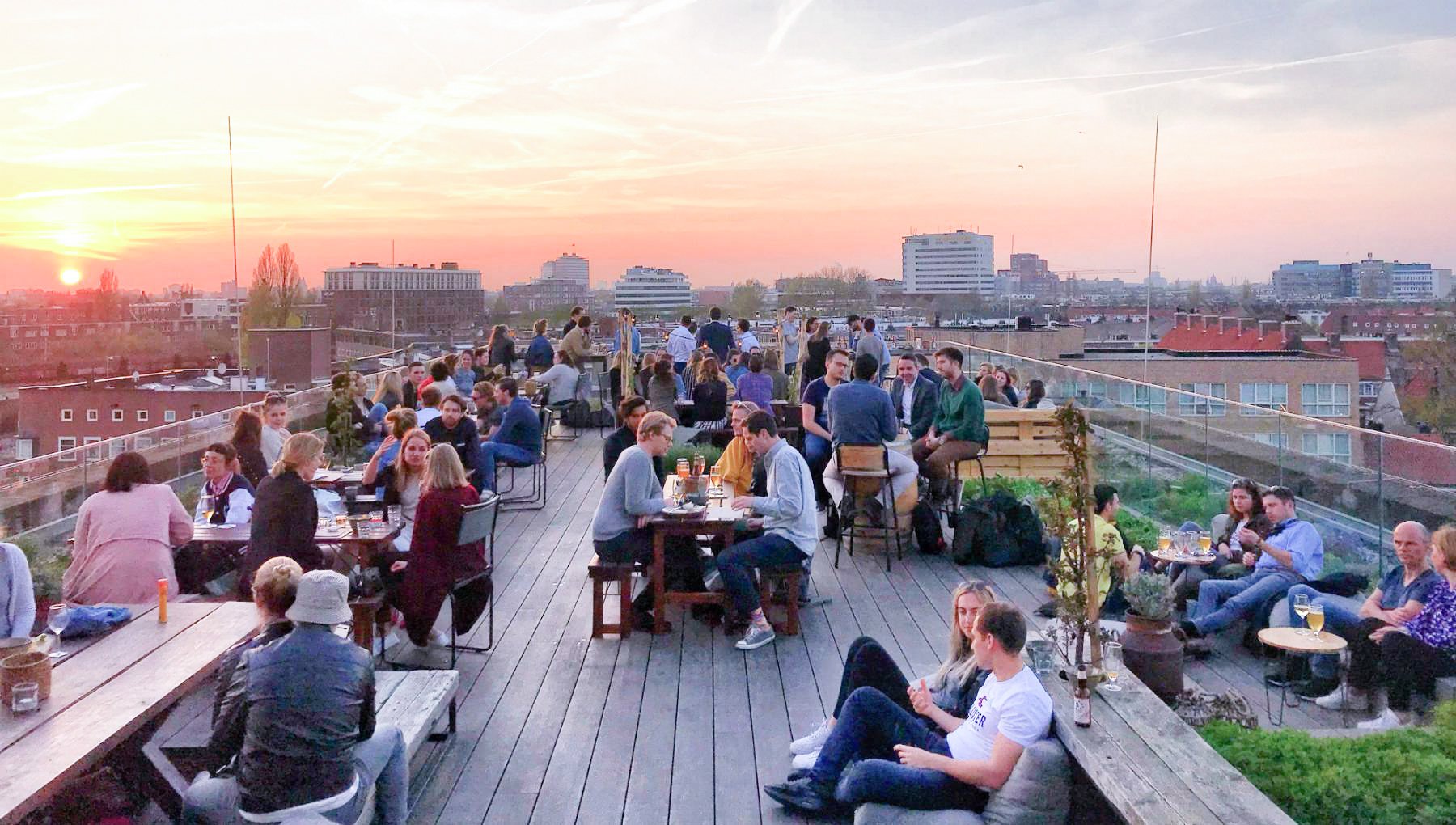 Hannekes Boom
Hannekes Boom really is a local hotspot. The spot to sit at the long picknick tables to soak up the sun. Despite Hannekes Boom being in the middle of the centre of Amsterdam you really have that sun-sea-beach vibe.
Hannekes Boom Amsterdam | Dijksgracht 4
The Rembrandst Square is located in the middle of the centre. The place where you can also find Rembrandt Square Hotel Amsterdam. From this hotel all the nice Amsterdam hotspots are within easy reach.
De Tulp
In a tropical mood? Although the name might give you a different impression, Café De Tulp on the Marie Heinekenplein is your go-to place. This café in neighbourhood the Pijp offers a mix of Balinese and South-American style and has the local reputation of being the cosiest garden of Amsterdam.
De Tulp Amsterdam | Marie Heinekenplein 33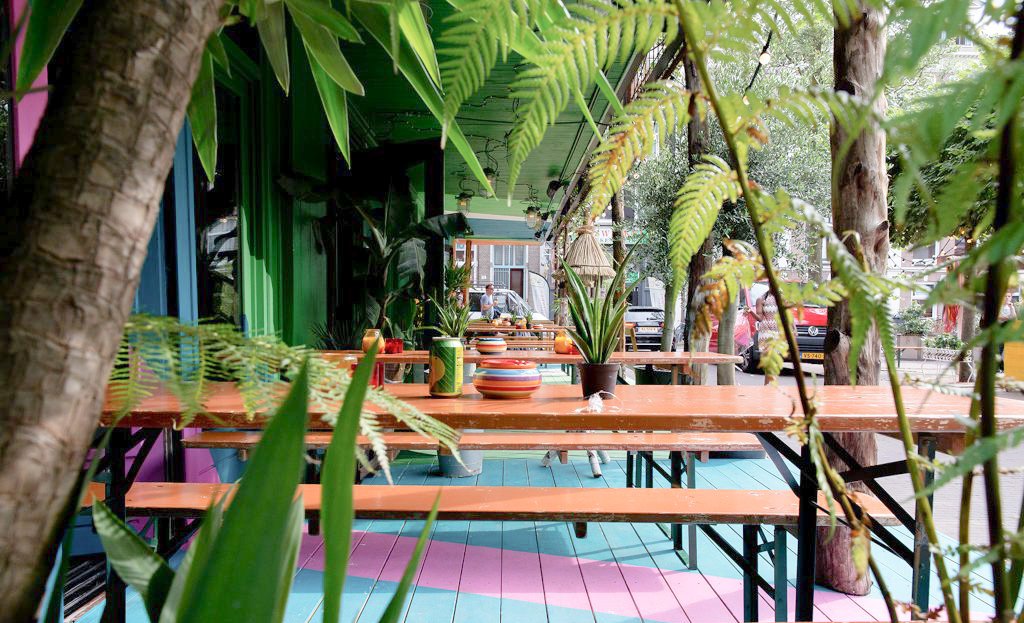 Amsterdam Roest
City beach and event location Roest Amsterdam is known to be a summer hotspot. At Roest there's always a lot going on. It is located on the eastside of the city between old factories and warehouses and has that cool vibe going on.

Amsterdam Roest | Jacob Bontiusplaats 1
More Amsterdam hotspots?
Of course there are a lot more hotspots to visit during your citytrip Amsterdam. Our City Ambassadors in the Eden Hotels love to tell your more about all the must-visit highlights in their city. Missing some Amsterdam hotspots or hidden gems that surely belong in this Amsterdam City Guide? Let us know!