Collect free nights with the
City Tour Stamp Card
Eden Hotels has 13 incredible hotels in eight different cities in the Netherlands, where we have a lot of fun things in store for you this summer. From super exclusive and extraordinary events to surprising packages. Eden Hotels will make sure you will experience summer festival vibes! Tour the country with our City Tour Stamp Card and collect stamps at every Eden Hotel. After four stays, we will treat you to a free night (including a breakfast) in a Eden hotel of your choice. How much more fun can things get?
Start touring and get the 5th night for free!
Want to discover the best that the Netherlands has to offer this summer? Eden Hotels are situated in eight different cities in the Netherlands, so there is plenty to discover! And this summer touring through the country will even be more fun, because in July and August we have a full and fun-filled event program for you! Plan your tour through the Netherlands now and don't miss any event!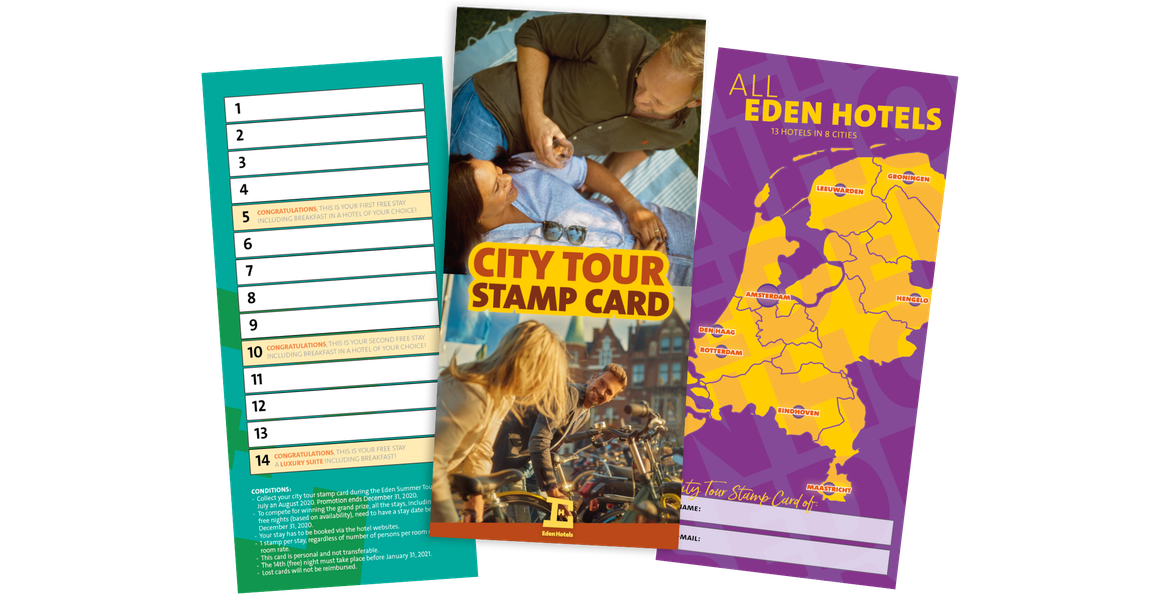 How does the City Tour Stamp Card work?
In July and August you will receive a City Tour Stamp Card when you visit our hotels (or you can download it below and print it yourself) With this stamp card you can collect stamps until the 31st of December 2020, when you have booked your stay through www.edenhotels.com or directly on one of our hotel websites. During every stay you will get a stamp and after the fourth stay (and the 9th and the 13th) we will treat you to a free night in a hotel of your choice, including a breakfast.

Yeah, you have a full stamp card!
You achieved it! Eden Hotels will offer you a free night in a luxurious suite including a breakfast with bubbles and a welcome drink in the Babylon Hotel Den Haag, Savoy Hotel Rotterdam, Holiday Inn Eindhoven or The Manor Amsterdam. Book this night by calling or sending an email to the hotel that you choose. Of course you will bring your full stamp card, when you'll claim your treat.
Win the VIP Rock Star grand prize
As the ultimate cherry on top, you can be the lucky winner of our mega luxurious grand prize when you have a full stamp card: spending the night as a true rock star and staying over in the legendary Rock Star Suite of the Hard Rock Hotel Amsterdam American including a VIP treatment. So… what are you waiting for? Start collecting!
Can't wait to get your hands on the City Tour Stamp Card? Download it below and take it with you on your next stay in an Eden Hotel!
Eden Summer Tour Calendar 2020!
A tour through the Netherlands will be extra special this summer, because boy, what we got in store for you! How about a special stay that is all about pampering your dog, laughter yoga and workshops and performances of the coolest artists in a brand new music venue? Quickly grab that calendar of yours, plan your tour and don't miss any event of the Eden Summer Tour Calendar!
In which hotel will you start your tour?
Conditions City Tour Stamp Card:
- Collect your city tour stamp card during the Eden Summer Tour in July an August 2020. Promotion ends December 31, 2020.
- To compete for winning the grand prize, all the stays, including the free nights (based on availability), need to have a stay date before December 31, 2020.
- Your stay has to be booked via the hotel websites.
- 1 stamp per stay, regardless of number of persons per room or room rate.
- This card is personal and not transferable.
- The 14th (free) night must take place before January 31, 2021.
- Lost cards will not be reimbursed